Main content starts here, tab to start navigating
Slide 1 of 5
Slide 2 of 5
Slide 3 of 5
Slide 4 of 5
Slide 5 of 5


Tiny Kitchen Cooking Club!
Been cooking the same way your whole life?
Let's kick it up a notch!
Join the club to learn family-friendly, approachable recipes with a healthy twist.
Oh, and did we mention delicious too?
NEW MEMBERS:
"Just Dabbling" Monthly Membership: $29 /month (you can cancel at any time)
"Top Chef" Year-long Membership: $319 (includes 1 free month PLUS we will mail you our healthy cookbook!)
A little more about us:
Chef Anja Lee has been passionate about bringing people together around delicious and healthy food since she was young. She teaches these classes on a mission to share this love with others. It is because of her dedication that she has been featured on the Food Network twice, and WON Supermarket Stakeout!

In this club, we gather 3-4 weekdays and evenings per month to cook creative recipes with simple ingredients and tools you can find in your own kitchen. You'll have exclusive access to our members-only Slack community, as well as recipes, shopping lists and videos of each class!
Once you have joined the club, be sure to RSVP to our upcoming classes!
Perks of the Club
3-4 classes per month

- Cook alongside a celebrated chef from the comfort of your home. All classes are hosted on weekdays and weeknights, and we will work with your schedule!

Be a part of our exclusive member

Slack group

, where our chefs and instructors post recipes, healthy cooking tips, favorite restaurants and more!
Receive access to

recordings of all classes.

Ask the chefs questions as you cook, share your results, and

end with a delicious meal

for your family and friends!
Learn recipes that are easy to make for any weeknight routine.
Gain a special knowledge of

healthy tips and tricks

to apply to all of your cooking.
Dive into HOST MODE and learn

tricks about setting a table, getting your house ready for guests

, and preparing food perfectly so that when guests arrive, you are the ultimate host!
Enjoy BONUS classes, like

gardening 101 for growing your own home herbs.

Join other like-minded people, or

make it a

couples night out

! to share your love for cooking and cook together from the comfort of your home!
Receive a

FREE gift Cookbook "

How to Cook Healthier

"

written by our esteemed Head Chef Anja Lee in the mail on your third month with our club.

Surprise gifts in the mail

will be randomly sent to our most loyal members - we love our members and can't wait to send you special treats!!!
Receive a class shopping list prior to class, as well as access to an

easy-to-use Instacart and Amazon Prime shopping cart

full of everything you need for class.

Cancel anytime! (30 days notice required for cancellation)
MONTHLY MEMBER SPOTLIGHT:
Niki Carriera!
Nicole "Niki" Carreira has been a member of our club since the very beginning because she is passionate about cooking and finding recipes that her kiddos will eat! We LOVE Niki & family!!!
"I can turn anything into a meal - give me a head of cauliflower or one sausage, it's also one of my talents in the kitchen, but I am very much looking forward to more recipes that will inspire me and support the kind of cook I am now. "
Nicole and her family are very active and social, they love to visit Tahoe for some lake and mountain time, travel to new cities, and find fun adventures in their hometown, Davis, California. Her favorite foods are chocolate and coffee (even better if they're combined!) and her favorite restaurant is Burma Eats.
Thank you for your continued support, Niki. We are so ecstatic to have you (and your family) in our club!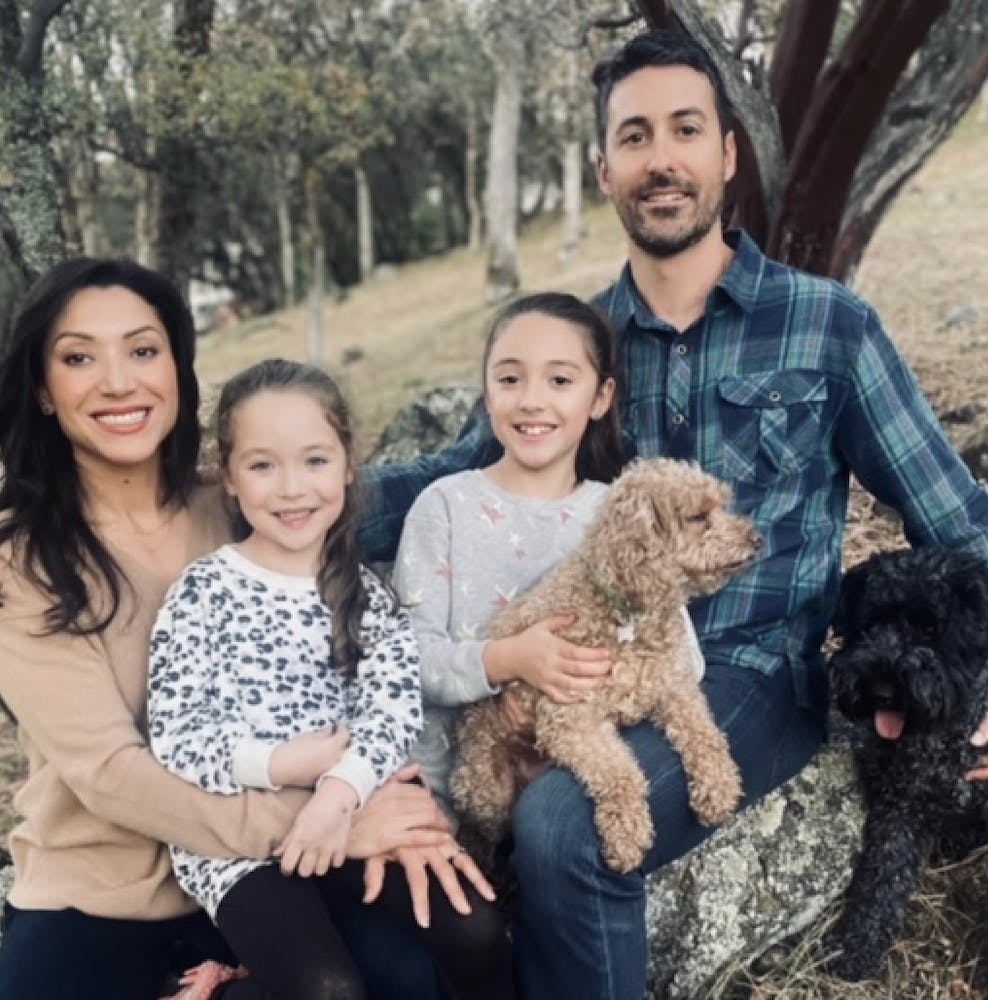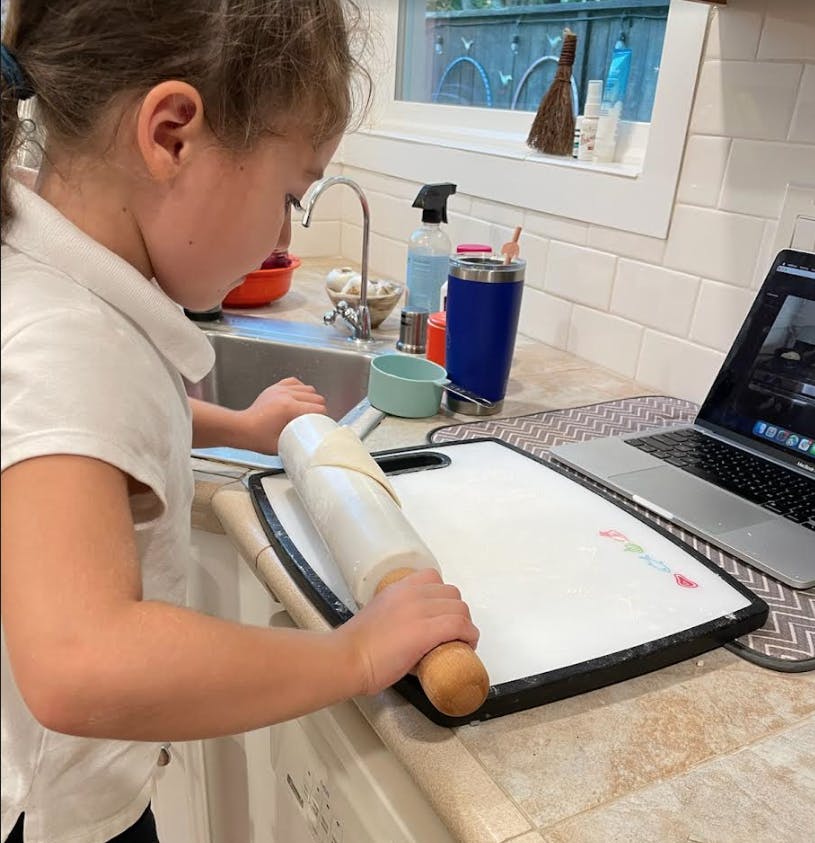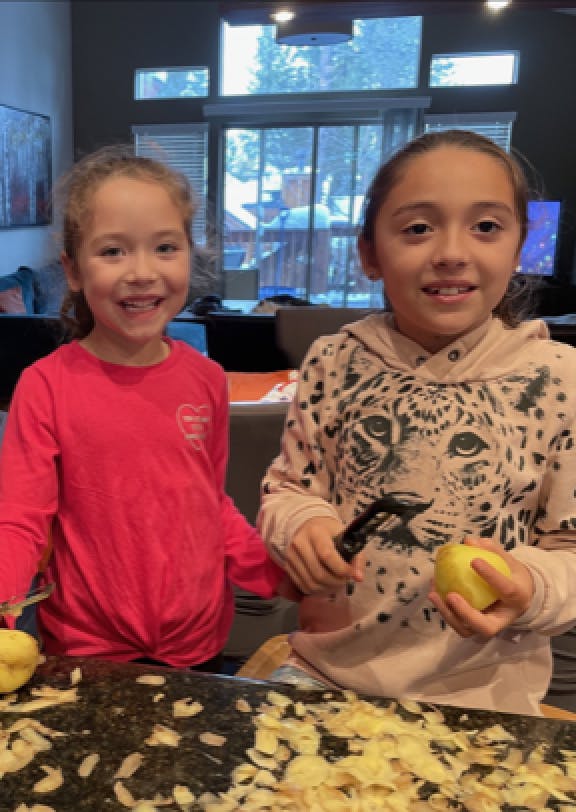 Team-Building Private Cooking Club options are available, for your wellness programs, employee-retention efforts, and more - please reach out to hello@anjalee.co to discuss what this could look like for your team!
BONUS: Please help us and fill out this survey to tell us which classes YOU are most excited about, what times work best for you to attend classes, and give us any other ideas and thoughts you might have to make our cooking club even better!
We hope you join us for the fun-filled classes ahead!